Considering Buying a Smaller Home? Here's how Donna Maguire Makes Downsizing Stress-free for her Clients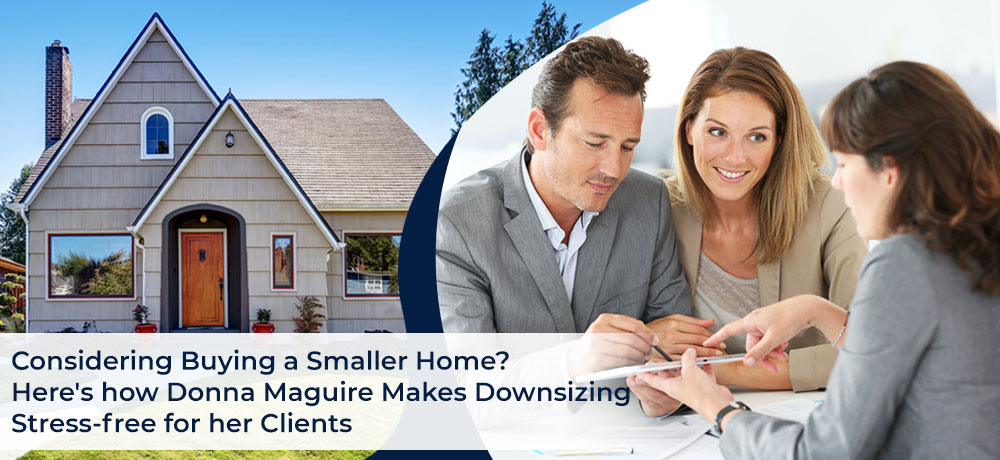 Moving is stressful on its own, but when you're also paring down your possessions, it takes on some new challenges. One of the biggest challenges is getting started and knowing how to navigate the process of downsizing.
If you're downsizing, you need to take stock of what you own by making a detailed inventory, know the dimensions and the floor plan of your new home, and decide what will fit and what won't. You also need to weigh the cost and decide if it's cheaper to move your stuff or sell and buy new things all together.
Keep reading to learn about how I help clients who find it difficult to move or downsize.
The Challenge: Moving and downsizing.
Over sixty percent of seniors say that their belongings and memories are holding them back from moving to a more suitable and possibly safer space. As age catches up, living in your present home may present a number of difficulties. Maybe your bedroom is on a higher floor and you can no longer use the stairs, or the washroom is in another part of your home that requires you to walk too much. Your neighborhood may not have a quaint setting that allows you to enjoy your retirement, and the only way to address it is by shifting to a safer, more convenient house.
The Solution: Starting early, or getting professional help.
Most seniors, once they've actually transitioned into a retirement residence or condominium lifestyle, wonder why they didn't do it sooner. They love the simplicity of the lifestyle and freedom from home maintenance and upkeep, not to mention the social interaction.
For so many people the thought of even getting started, sorting and dealing with personal items that have been accumulated over the past few decades is a very daunting task.
However, there are services to help with the process, whether it's tackled side by side with assistance or the service handles everything for you. Either way, it's a process that will clear your space and mind and allow the transition to a better space happen quickly and easily. Besides, there are numerous organizations that are actively seeking clothing and household items as well as furniture for people who would really benefit from the items that you no longer need or use.
While timelines are different for every individual, it's always easier to start the process while you are in good health and able to actively participate. Often the task is left to family members. It's actually a great gift to your loved ones when you've organized and downsized before a life or health event renders you incapable of participating.
I regularly host 'Downsizing Workshops' to help people get enthusiastic and motivated to both clear out the old and envision the new. Having an idea of where you will be living next, is one of the key components of an upcoming lifestyle change!
The Bottom Line
Whether you're a first time home buyer, moving to a bigger or smaller home or transitioning into retirement, I am committed to making your real estate experience both informed and as stress-free as possible. I have built a reputation based on experience, knowledge, professionalism, and client satisfaction. When you choose Donna Maguire, you are choosing an experienced realtor for all your real estate buying and selling needs who specializes in servicing Ottawa and surrounding areas. To get started, get in touch with me by clicking here. To learn more about how I can help you, please click here. Or to read what my clients are saying about me, please click here.